THE FIRST THERAPY TO TREAT WOMEN WITH PRESENT HPV16 INFECTION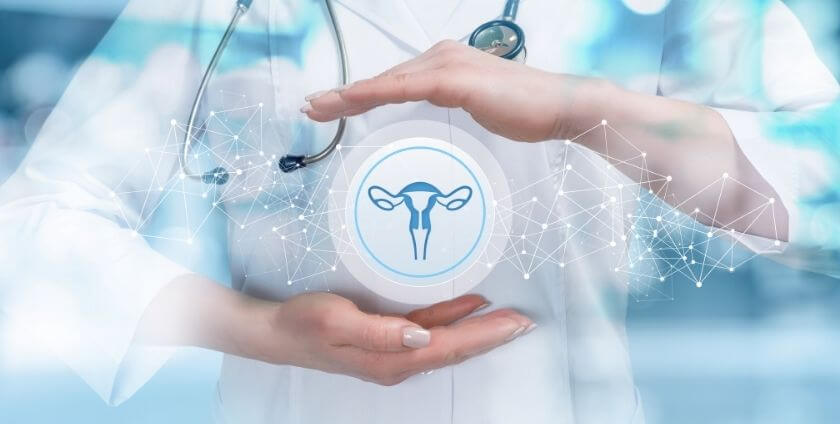 Are you aware that, according to the Austrian Society of Gynaecology and Obstetrics (Österreichische Gesellschaft für Gynäkologie und Geburtshilfe, OEGGG), cervical cancer (cervical carcinoma) is one of the most frequent causes of death among young women in Austria? Human papillomaviruses (HPVs) were detected in more than 99% of all cases in which women developed this type of cancer. The German Robert Koch Institute (RKI) reports that to date more than 200 different genotypes of HPVs have been identified (source: RKI, 2018).
How is HPV transmitted?
Papilloma viruses are transmitted by direct human contact. An HPV infection occurs when the viruses enter the body through micro injuries in the skin or mucosa and infect epithelial cells, i.e. the cellular elements of the epithelial and glandular tissues. Human papillomaviruses settle on the basal side of this type of cell, which connects the epithelial cells with the underlying tissue via a basal lamina. The main transmission routes are by vaginal, anal, but also oral sex. Hence, HPV is contagious (source: RKI, 2018).
HPV 16 increases the probability of developing cancer
Genital HPV types are classified into those associated with a high risk and those associated with a low risk of cancer. The persistent (lasting) infection of the cervix by high-risk HPV types is responsible for the development of intraepithelial neoplasias. In particular HPV 16 tends to promote the development of these neoplasias and to remain in the tissue as a "viral disease".
Since HPV 16 is a high-risk HPV type, it needs to be taken as seriously as HPV 18, HPV 31 and HPV 33. The situation is different for low-risk HPV types because the body's immune system is better at fighting off these papilloma viruses.
Figure 1 shows that HPV 16 is the most frequently detected virus type in low-grade dysplasia (CIN1) and in women with a normal endometrium (source: HPV Information Centre, 2018, data for Germany; no data available for Austria).
Higher-grade dysplasias such as CIN2 and CIN3 are associated with a higher or very high risk of malign degeneration. Again, HPV 16 is the most important risk factor for the development of cancer.
(see Figure 2, source: HPV Information Centre, 2018, data for Austria)
HPV 16 persistence promotes the development of cervical cancer
Virus persistence means that the viruses remain in the tissue and the HP virus cannot, or not sufficiently, be fought by the body's own immune system. Persistence plays a decisive role in cervical carcinogenesis (development of cervical cancer).
This was demonstrated, among others, by Kjaer et al. (2010). Their study included several thousand women aged 20 to 29 years who were examined for HPV infections and followed up for more than 12 years.
The study showed that at baseline 24.2% of all HPV-positive women with normal cervical cytology had an HPV 16 infection, that HPV persisted in 29.4% of the women infected with HPV 16, and that 47.4% of these women were diagnosed with CIN3 or even cervical carcinoma within 12 years.
(see Figure 3, source: Kjaer et al., 2010)
Persistent HPV infection increases the risk of progression to cancer. In other words: the longer the HPV infection lasts, the higher the risk that the disease will advance and develop into cancer.
Infection with HPV 16 has the highest tendency to persist and the highest probability of progression. At the same time, this type of virus has the lowest probability of self-healing.
(see Figure 4, source: Rodriguez et al., 2008)
How do I know if I have HPV 16?
As the virus hides in the body's cells, it is difficult for the body's immune system to detect high-risk HPVs. Organisations such as the Austrian Society of Gynaecology and Obstetrics (OEGGG), the Robert Koch Institute (RKI) and the WHO therefore recommend that all women regularly undergo HPV testing so that high-risk HPVs will be promptly detected. One example is Germany's new cervical cancer screening programme which started in January 2020. It entitles women aged 35 and older to a combined HPV screening which comprises a cytological examination and an HPV test every three years (source: German Federal Ministry of Health).
Currently there is no therapy for HPV 16 infections
Cervical cancer and its precursors are the most common diseases worldwide caused by HPVs. However, genital HPV types can also infect the vulva, vagina, penis or anus as well as mucous membranes in the mouth, throat and larynx, and cause cancer there. HPV 16 is one of the most common HPV types detected in these diseases. HPV vaccination has a prophylactic (preventive) effect and offers protection against infection with certain HPV types and secondary diseases. However, it has no therapeutic effect on already existing HPV infections and tissue changes.
BlueSky Immunotherapies is developing the first therapeutic treatment for HPV 16 infections
Our HPV 16 trial is the first to investigate a therapeutic treatment for patients with an existing HPV 16 infection. The trial is conducted in collaboration with the Vienna General Hospital (AKH) and the Medical University of Vienna and will investigate the effect and safety of the immunotherapeutic FluBHPVE6E7 in treatments against the HPV 16 virus. In the future, this worldwide novel therapy will be used to treat patients who have already been diagnosed with HPV 16-associated precancerous lesions or carcinomas.
List of Sources
List of Figures
Figure 1: Highest prevalence of HPV 16 among women with low-grade dysplasia and normal cytology
Figure 2: Highest prevalence of HPV 16 among women with higher-grade dysplasia and cervical carcinoma
Figure 3: 47.4% of all women with persistent HPV 16 infection developed CIN3+ within 12 years
Figure 4: Lowest self-healing rate, highest persistence and progression rate of HPV 16 in all age groups